Welcome to MindaHome USA
The house sitting service matching pet and home owners with house sitters across America.
Our website works much like a matching service. Pet and Home Owners are free to contact House Sitters from those that are listed with us and House Sitters can easily find house sitting positions.
Need a House Sitter?
It's free for you to use our service so let us help you find your perfect sitter. Simply register your details and then contact any of our house sitters who's profile appeals to you. You can also be contacted by our available house sitters.

House Sitters
When you join us as a House Sitter you become part of a highly visible website designed to be noticed by people that are looking for someone to take care of their homes and pets when they are away. We provide an easy one step process for home owners to be able to list their requirements and communicate with you.
We also have an automated email notification system for our House Sitters. When a new House Sitting position becomes available in your state, you will receive an email notification with a link to the new advertisement.

Mindahome has a full money back guarantee. If after 12 months you have not found a suitable house sitting position, we will happily refund your payment.
There is an annual House Sitters fee of $25 which allows you to submit your profile to our database, contact all Home Owners who are listed and be amongst the first to receive notification of new positions available. There are no limitations as to location or number of positions you can take.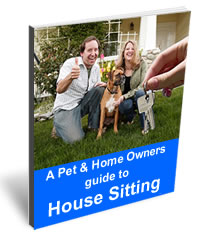 Bonus - Free house sitting eBook
All Mindahome members, both owners and sitters receive our free house sitting eBook. This book, originally written for home owners, will help both owners and sitters enjoy a pleasant house sitting experience. To get your free copy, after completing the joining process, just click the link in the welcome email.
More information
For more information on the benefits of House Sitting for both home owners and house sitters and for advice on how to choose a sitter please click this link.