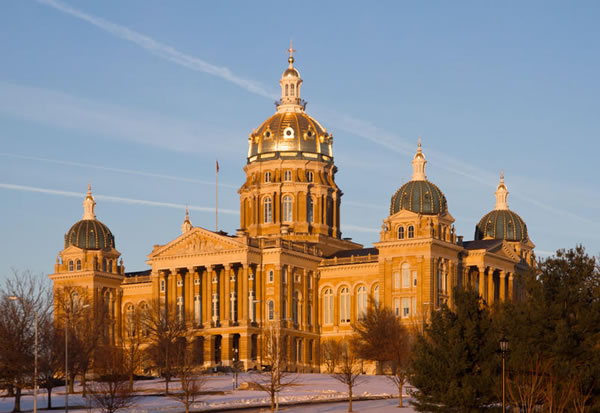 Known primarily for the political hustle and bustle that surrounds the Iowa caucuses, Des Moines has a whole lot more to offer house sitters by way of arts and theater, architecture, historical exhibits, parks and gardens, festivals, events, sports, shopping, dining and entertainment.
A Gold-plated dome and a Bonobo campus
You can begin by marveling at the 23-karat gold-leaf dome of the State Capitol building. Aside from housing the governor's offices and the state legislature, it has the famous "Westward" mural, a five-story law library, a scale model of the battleship U.S.S. Iowa, and a collection of First Lady dolls. On the Capitol grounds are war memorials and monuments as well as a promenade and landscaped gardens that are part of a 10-acre park.
At the foot of the Capitol building is the State of Iowa Historical Museum with exhibits from the state's history. These include Native American and pioneer artifacts, a library, archives and a research center.
Blank Park Zoo is a 22-acre park that houses a tropical rain forest, and exhibits of the Australian Outback and Africa. The Great Ape Trust, a 230-acre sanctuary and research facility houses bonobos and orangutans for the non-invasive study of their cognitive and communication facilities.
Eat, drink, shop and be merry
The East Village starts at the river and goes on until the State Capitol, delighting you along the way with restaurants, shops, art galleries and an interesting mix of historic buildings. The Valley Junction in West Des Moines is another array of shops, arts and crafts fairs, and live music. Jordan Creek Town Center, Merle Hay Mall and Southridge Mall are the city's other shopping areas with a wide variety of stores and entertainment.
Eateries go from budget BBQ and pizza joints like Mustards to upscale restaurants like The Continental, Christopher's and Trostel's Greenbriar. At the Court District you'll find a variety of bars, dance clubs, and live music venues. Or, you can go to East Village or Clive on NW 86th St. For other fun and action, Adventureland Park with over 100 rides, shows and attractions will more than fit the bill.
Any caucus will unanimously agree that house sitting in Des Moines is a winning choice.