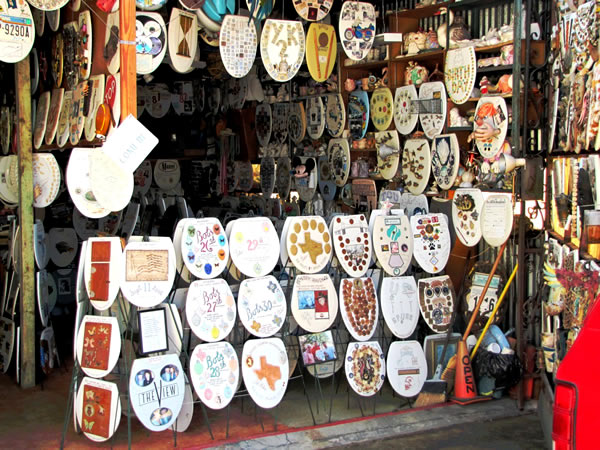 The United States isn't all about the Washington Monument, Niagara Falls or Disneyland. In a large country with over 300 million people, house sitters are bound to find a lot of unusual attractions all over the place. Get ready to chuckle at some of these.
Toilet Seat Museum
No. 1 on almost every list is the Toilet Seat Museum in San Antonio, Texas. Set up and curated by Barney Smith, it's been voted the wackiest attraction in the USA. There are over 900 toilet seats in the large garage (which doesn't have a toilet) decorated with decals of all sorts, many inspired by Barney's trips around the world. The museum draws over 1,000 visitors every year.
Enchanted Highway
In different points along the 32-mile highway in North Dakota, you'll find the world's largest scrap metal sculptures. Built and maintained by artist Gary Greff, it now has 7 sculptures (and 1 in progress) of subjects like The Tin Family and Grasshoppers in the Field. Some works are 50 – 60 feet long and 12 feet high.
Carhenge
Jalopies, painted gray to look like stone, are arranged to replicate Stonehenge in a field in Alliance, Nebraska. There are 38 vintage cars arranged in a circle 29 meters in diameter. The trunks are planted in the ground and the heelstone is a 1962 Cadillac. Carhenge has been mentioned in pop music and has been featured in TV commercials and films.
The Largest Chair
This 33-foot chair was built to advertise Miller's Office Furniture in Anniston, Alabama. It's beaten other chairs around the USA for this title. Made out of 10 tons of steel, the chair has a spiral staircase leading to the seat. It was the world's largest until a 60-foot chair was constructed in Italy.
Gatorland
The chance to get up close to alligators, feed them hotdogs and get photographed sitting on them makes Gatorland a one-of-a-kind attraction. Situated on a 110-acre theme part in Orlando, Florida it has thousands of alligators and crocodiles, reptile shows, an aviary and a petting zoo.
If you want to see more wacky attractions, a good way is to find a house sitting assignment. It gives you a chance to roam around and explore the area looking for out-of-the-way oddities.