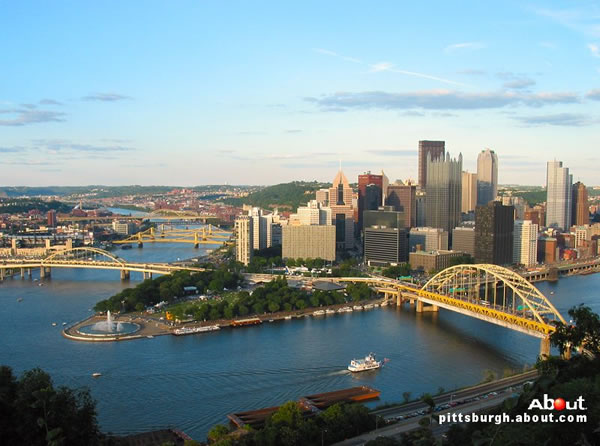 You don't have to be a victim of the jobs crisis to look for travel destinations where you can stretch your dollar. One place where your travel budget can go a long way is Pittsburgh. A city of over 300,000 people, it is the second-largest city in Pennsylvania. The city is sometimes nicknamed the City of Bridges, of which it has 446, or Steel City because it was once the center of the country's steel industry.
Today, there are no steel mills left in the city and Pittsburgh is now a major center for healthcare, education, biomedical technology, robotics, retail and financial services. The headquarters of eight Fortune 500 companies are located in the city.
National Geographic has named Pittsburgh one of the best travel destinations worldwide. Forbes Magazine rated Pittsburgh as the most liveable US city in 2010. Through the years, it has earned this reputation for livability in ratings by Places Rated Almanac, The Economist, Entrepreneur and Yahoo! For the visitor, Pittsburgh has a wealth of entertainment to offer. There are professional music venues that are home to world-renowned orchestras, opera companies and musicians. Dance, film, museums, zoos, gardens and casinos are part of the city's cultural life.
Pittsburgh is also rated one of the less expensive cities when it comes to cost of living. Among 780 US cities surveyed, Pittsburgh ranks 570 (with 1 as the most expensive) in overall cost of living. A 3-bedroom, 2-bath home in Pittsburgh costs almost half of the national average. Room rent in the city is 20% below the national average. Pittsburgh ranks 516 for restaurants, meals and hotels; 652 for recreation and culture; 571 for communication; and 551 for miscellaneous expenses like dry cleaning, general goods, newspapers and office supplies. One the other hand, costs for groceries, transport and education are comparatively high.
The city of Pittsburgh definitely belongs on a "must visit" list. To squeeze the most out of your travel budget, one way is to take on a house sitting job in the city. House sitting will save you hotel or lodging expenses. You might even make some money to help you enjoy the city even more. On top of that, embedding yourself in the city will give you more time to explore it, get to know the people and learn about its culture inside-out.