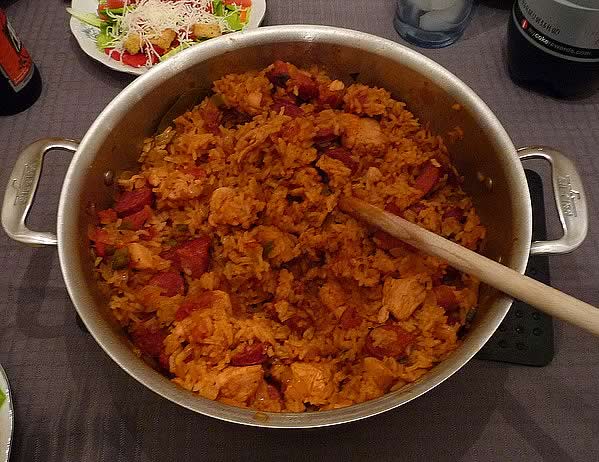 The United States isn't called the world's melting pot for nothing. Immigrants coming from all over the world have brought with them an immense variety of delicious foods to satisfy every palate. Here are just a few and where you'll find them.
Louisiana Jambalaya
Creole or Cajun, this cousin of the paella is a mixture of rice, meat, shrimp and andouille sausage. In and around New Orleans, you'll find it made with the panache of a celebrity chef or as a more down-to-earth concoction with fresh crawfish, crabs and, sometimes, a turtle.
Texas Barbecue
Brisket of beef smoked in hickory, mesquite and oak gives Texas barbecue a unique taste that has been the delight of even heads of state. You can savor this quintessentially American dish anywhere from the big cities to small ranch communities.
San Francisco Sourdough Bread
They're big, bad baguettes and rounds with a bite as only the Windy City can make them. The most famous sourdough bread in the country, the recipe goes all the way back to 1849. It's an excellent companion for seafoods and soups.
Hollywood's Cobb Salad
Not the salad for those on a diet, it's got more calories than a cheeseburger. Lettuce and other greens piled high with cheese, eggs, bacon, chicken and whatever's available. It was first whipped up by the owner of the Hollywood Brown Derby with everything he could find in his fridge.
Buffalo Wings
Deep-fried, unbreaded chicken wings coated in a classic sauce made of vinegar, cayenne pepper and butter, it's served with veggies just to give the palate a break. Buffalo, New York is full of stories about how the dish came about but everyone agrees the recipe gives chicken a whole new meaning.
There's lots more
Baked Alaska from New York City, Turducken originating in Louisiana, uniquely American foods like Philly Cheesesteak, S'mores, Corn Dog, New Mexico Salsa and much, much more abound all over the country. One good way to discover mouth-watering local food is to take on a house sitting job. It'll give you plenty of time to explore a place for its delicacies and, what's more, to enjoy them.