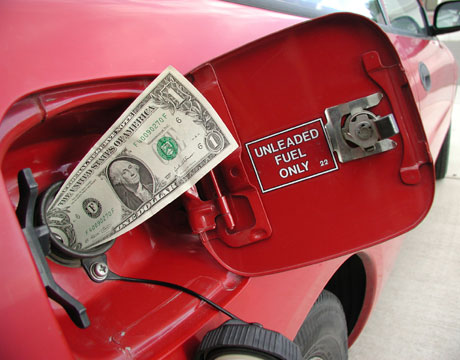 The time of the year marking peak driving season and the worldwide oil situation are putting more pressure on your transportation budget. It's bad enough that you have to shell out more to move around every day. When you want to go on a driving holiday overland, this makes the situation even worse. But, there are ways to stretch your transportation budget and one is to be a smart gas shopper, another is to take public transport.
If You're Driving
Gas prices vary from place to place, sometimes as much as 25%. GasBuddy.com crowdsources gas prices letting users report on prices in their area. This enables you to find the pumps with the lowest prices. This works even if you have to drive a little bit farther: outside of the downtown area or even across the border (if you're near Mexico, for instance).
Load up at the start of the week and early in the day. Gas prices tend to go up from Wednesday to Saturday. Early in the day when it's cooler, gasoline is more dense. Keep your car's engine in good condition and avoid loading up with high-grade gas unless your engine requires it.
Get something back for your buck. Choose a credit card that gives you cash rebates or refunds. You can get as much as a 2% cash back bonus or as high as 5% if you stick to one brand. Some retailers and membership clubs have rewards programs that you can apply to your gas purchases.
Go Public
Taking public transportation is one of the best ways to go farther distances on less cash. You not only save on gas, you also save on parking fees, maintenance, tires, insurance, registration fees and depreciation.
Studies by the American Automobile Association (AAA) and the American Public Transportation Association (APTA) show that you can save as much $14,755 a year in New York, $10,989 in Los Angeles, and $9,782 in Miami by going public. You can calculate your individual savings at the website www.publictransportation.org.
When you take a house sitting job in a different city, get to know where to find the gas stations with the best prices. Be familiar with public transportation routes and schedules. Buy an unlimited pass so you can get to explore the city and take full advantage of your house sitting assignment.