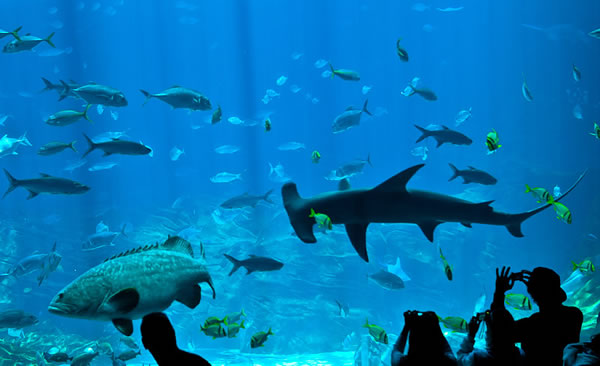 The Atlanta of Rhett Butler and Scarlett O'Hara may be gone with the wind. However, the city that took its place is one of the most exhilarating places you can do house sitting in. Atlanta, the capital of Georgia, is ranked as a Global City, right up there with New York City, Tokyo and London. It has a diverse economy stretching into logistics, media, government administration, professional and medical services and higher education.
More than 35 million visitors troop to Atlanta every year to enjoy its museums, restaurants, festivals, parks, sports events and music.
Georgia Aquarium
It is the world's largest aquarium with over 8.5 million gallons of water, 120,000 animals including hammerhead sharks, beluga whales, manta rays, penguins and bottle nose dolphins. The aquarium features exhibits and shows highlighting different marine environments.
Music and theater in Atlanta
The Atlanta Ballet, America's oldest professional dance company, presents classic ballets and new styles in contemporary and traditional performances. Listen to the music of the Atlanta Symphony Orchestra under the stars, or the moonlit dinner concerts at the Chastain Park Amphitheater. The Fox Theater with its Broadway plays and the Alliance Theater are among the many venues for theater arts in the city. Concerts at Philips Arena, the Tabernacle, Piedmont Park, and Centennial Olympic Park bring you a whole range of sounds to choose from.
Atlanta is culinary heaven
Along Buford Highway, you'll savor all the tastes that Atlanta's more than a million immigrants have brought to the city. Bocado, Bacchanalia and Miller Union are among the upscale eateries in the city that mingle with the more affordable joints like Marlow's Tavern, The Shed at Glenwood and Livingston. There's even the Medieval Times Dinner & Tournament featuring a jousting tournament complete with knights and horses to go with your 11th century feast.
Entertainment from A – Z
From the Arts to Zoos, you'll find it all in Atlanta. See Atlanta from above with Balloons Over Georgia or below with Underground Atlanta. Choose from museums, galleries, sports events, nightlife, shopping centers, theme parks, malls, historic neighborhoods, walking and cycling paths, shows and many more. Atlanta has it all in a scale that you've never imagined.